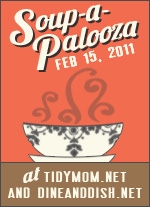 I just happened to have a leftover ham bone in my freezer just waiting for a good excuse to become something scrumptious. When I saw this contest on the
TidyMom
blog I knew that bone was destined to become soup, but what kind of soup? I like peas, but I'll be honest, split pea soup just looks unappetizing. Its green, it's goopy, and, well, goopy.
Mr. Penguin insisted that I make split-pea soup despite my misgivings. He swore to me that it was delicious. I trust him; I told him that there would be consequences if it were a flop. That he would have to unload and load the dishwasher ALL week. He was unfazed. SO I asked him for the recipe. He had none to give.
I looked around for a recipe but couldn't really find one that I could commit too. They had herbs I don't own or were unfamiliar with. I'm on a budget. I can't afford to be getting new herbage. So I took a gamble and put what I thought would taste good. My bone had a lot of meat on it so what I really came out with was split pea and ham soup. What I came up with was delicious.
Ingredients:
1 leftover ham bone (or some diced ham)
½ pkg of bacon, cooked & crumbled
1 pkg of split peas, rinsed and picked over
1 small onion, finely chopped
1 cup carrots roughly chopped
1 chicken bullion cube
1tsp Nature's Seasoning
1/8 tsp ground red pepper (you can add more if spicy is your thing)
water, lots of water (and don't forget the Funyuns…just kidding, no Funyuns!)
Place peas, onion, and carrot into slow cooker. Add seasonings and bullion cube.
Add ham and bacon. Cover all with cold water. Cook on low 8 hours or until peas are tender.
I garnished mine with a dollop of sour cream and served with a side of crusty bread. The fiancé doesn't have to unload the dishwasher ALL week, but he said he would anyways because he loves me (and he knows how to put me in a good mood). This soup is ugly, but soooooo yummy!
If you're looking for more soup recipes or have one to share:
Come join Soup-a-Palooza at
TidyMom
and
Dine and Dish
sponsored by
Bush's Beans
,
Hip Hostess
,
Pillsbury
and
Westminster Crackers